Excellence in Relocation Services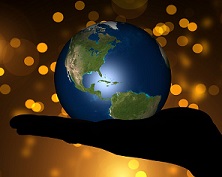 As a Certified Relocation Specialist, I understand the concerns and needs of transferring families & individuals. Therefore, I make sure all my clients receive a relocation package which includes, among other things, information on schools, lifestyle, and recreation. After my clients have developed an overview of the Valley, I give them a personal tour of their particular areas of interest. Thereafter, through thoughtful interviewing and attentive listening, I help my clients find the community and home that completely satisfies their lifestyle needs.
As an Arizona native, I gladly share my personal insight and thorough knowledge of the "Valley of the Sun" with my relocation clients. Early in my career, I made it a professional goal to enhance my knowledge of certain prime areas of the Valley, areas of growth and value. In doing so, I centralized my office in different points of the Valley and completely immersed myself in learning the character and details of the surrounding communities. Those principal areas are Northeast Phoenix & Scottsdale, Central Phoenix & the Northwest Valley, and Gilbert & the Southeast Valley.

This self-initiated process has given me a special sense of the Phoenix metropolitan real estate market. This process has provided me the knowledge and insights necessary to detail and compare differing communities within our Valley, at a level few people can. Furthermore, my relocation specialization keeps me current with changes throughout the Valley. As a result, you can be assured that you will be with a highly trained
Broker
no matter where your housing needs take you.
In your relocation, when buying a home in the Valley, you need a highly qualified representative protecting your rights. In my capacity as an
Accredited Buyer Representative
(
ABR
), my clients enjoy the security of knowing that they have professional representation working for them, instead of the seller. Fewer than 1 in 500 real estate agents have earned the ABR professional designation. In addition, I have earned the nationally recognized
Certified Residential Specialist
(
CRS
) designation. The CRS is the highest professional designation of residential specialty in the country and only 3% of Realtors nationally have earned this distinction. Last, but not least, you will enjoy the security of having a
Real Estate Broker
, not simply a Sales Agent, safeguarding your interests in the details of such an important transaction.

My relocation niche has exposed me to a variety of people and businesses. I am very proud and honored to share with you some of the many companies I have helped over the years, companies such as:
AlliedSignal
American Express
Arizona Public Service (APS)
AT&T
Chase Bank
Good Samaritan Hospital
Honeywell
Liberty Mutual Insurance
Intel
Microchip
Mobil Oil
Motorola
Northwest Airlines
Petsmart
QuikTrip (QT)
Simons Manufacturing
Tiffany's Jewelers
I have also had the tremendous privilege of working with people from across the United States; families from New York to Hawaii. Because of my local expertise, I am often asked to assist international clients as well. I have worked with families from Canada, China, India, Kenya, Mexico, Singapore, South Africa, Sweden, and the United Kingdom, to name a few.
I hope this gives you a clear picture of the variety of services I can provide you. Remember, it costs you nothing to have my expertise put to work for you, finding you the perfect home and protecting your interests throughout the complex process! Feel free to call my office toll-free (1-888-297-3562) anytime, for answers to your immediate questions and to further discuss the strategies I will use to effectively represent you in your relocation to our Valley of the Sun.
Certified Relocation Specialist in Phoenix Arizona. Helping families relocate to Phoenix, Scottsdale, Gilbert, Chandler, Mesa, Tempe, Queen Creek, Maricopa, Ahwatukee, Gold Canyon, Apache Junction, and Fountain Hills.